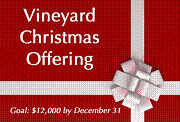 This year we are trying something brand new at the Vineyard.  The Vineyard Christmas Offering.
Our goal is to raise $12,000 by the end of the year, over and above our regular giving so that we can give to three different needs. We know that this is a time of year when people are looking for charities to give money to, and we want to help give some of that money to organizations that will help expand the Kingdom of God!
There are three places we are going to give the money that we raise.
• We are going to give 50% or $6000, to Love146, which is an organization that works to help children who are endangered by, or in danger of child sex trafficking.
• The next 30% or $3600 will go to Loaves & Fishes, which is a local charity that feeds the poor & homeless in the Ithaca area.
• The rest would go to our church's benevolence fund so that we can be able to be generous with various needs that exist in our community.
• If we go over & above $12000, half of everything that comes in, will be split up among these three areas, the other ½ will go towards missions.
We are asking everyone connected with the Vineyard to pray about what it is that God would have us give towards this offering.
As we mentioned in a message a few weeks ago, while we recognize that people are stressed about the economy, we belive that as the church, we should be full of hope, not fear…and while everyone around us holds on tight to what they because they are afraid, those that follow Jesus can, & should be generous!
If you would like to give online, you can do that here through Google Checkout.